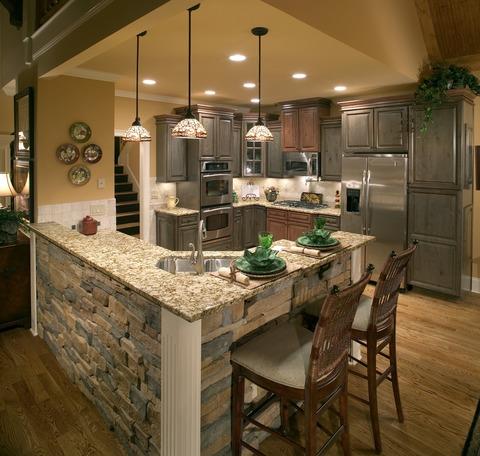 While remodeling a kitchen is well worth the investment, being mindful of a budget is necessary for almost all projects. Knowing which aspects of your remodel will be worth the extra time and money is an important step in getting the most out of any remodeling project.
Consult your local Kansas construction and remodel company
to better understand the details of your upcoming kitchen remodel.
But these improvements don't come cheap. A 2013 U.S. Census Bureau report noted the cost of an average kitchen remodel was $5,000, with the price tag for complete renovation at $27,353.Begin with a detailed floor plan, said Ariel Darmoni, managing partner at 123 Remodeling, a general contractor firm featured in Houzz and on HGTV. "It's going to be so much more if you don't have a floor plan that works for you, because making changes later costs more. You can also save money if you don't have to move plumbing and electric, even if you're taking down walls," he said. Don't skimp on important life-safety improvements like mold remediation and ventilation, said Beverley Kruskol, owner of M.Y. Pacific Building, a general contractor who has worked with high-end renovations, including for Mario Batali's restaurants in Los Angeles. Tile, flooring and lighting can be both economical and beautiful, Kruskol said. "Tile is a great place to save money. There are thousands of styles, and they're so amazing," she said. Porcelain and ceramic tiles can be used on both floor and in kitchen backsplashes, said Suzanne Falk, of Suzanne Falk Interior Design and a ghost designer on HGTV's "Kitchen Crashers." Tile is cheaper than hardwood flooring, and Darmoni prefers tile floors in kitchens because wood floors can be easily damaged by water leaks from dishwashers. Choose a nicer faucet over a sink, Darmoni said, but look at the faucet construction. Better-made faucets have durable metal cartridges inside, which are the valves that turn on the water and mix temperatures. High-end appliances might be a worthy splurge; however, Kruskol said homeowners should think about how they use them and how long they'll be in the home. "If you're in a condo, I don't think you need to spend the money to get a Wolf range, but it depends on your lifestyle," she said. Homeowners who aren't doing a gut rehab and really are scrimping can get new doors and hardware for their existing cabinets, Kruskol said, which can quickly update the look. Even refinishing existing doors can refresh a tired kitchen. The two areas worth a splurge are cabinets and countertops, they said. Consider stepping up to semi-custom cabinets from a local cabinet supplier and avoiding the big-box retailer. At Home: Where to save, splurge in kitchen remodel | The Topeka Capital-Journal